Back streets & hidden gems tour
.
Hop on, on a bike tour through Amsterdam, with a focus on uncovering hidden gems, promises an enchanting journey through the city's rich history and vibrant culture.
Highlights
Onze Lieve Heer op Solder
Hollandsche manege
Hortus Botanicus
NDSM werf
Easy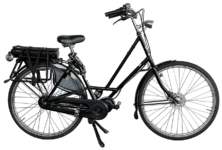 Electric bike rental
Average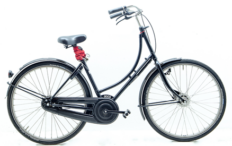 Hand brake bike rental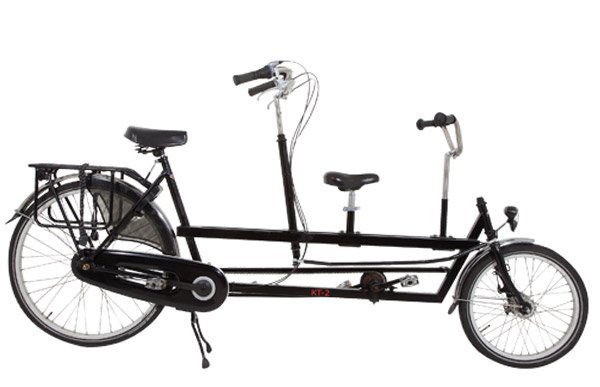 Kids tandem bike rental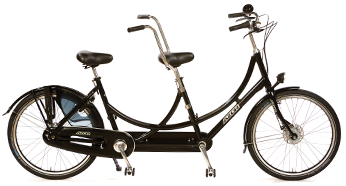 Tandem bike rental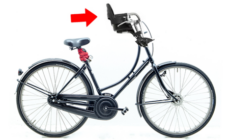 Bike rental with front seat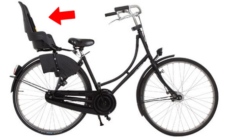 Bike rental with child seat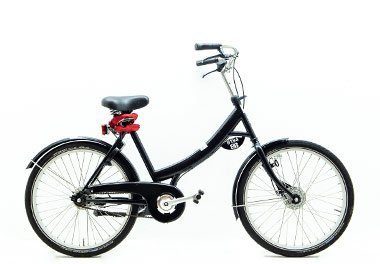 Small bike rental (24 inch wheels)
Challenging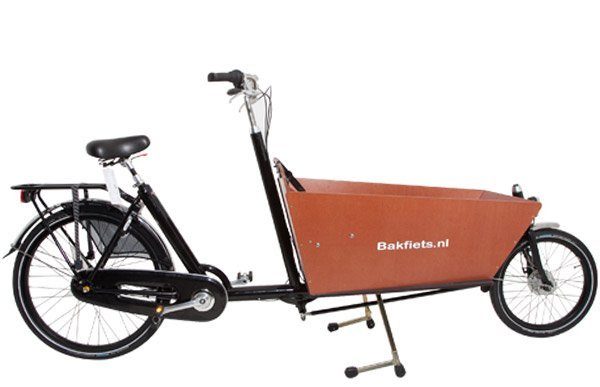 Cargo bike rental
Route
As you pedal through the picturesque canals and cobblestone streets, your first stop will be the intriguing Onze Lieve Heer op Solder. Nestled within a 17th-century canal house, this clandestine Catholic church offers a glimpse into Amsterdam's religious past, hidden away to escape persecution.
Continuing your exploration, the tour leads to Nemo, Amsterdam's science and technology museum, offering a captivating blend of interactive exhibits and architectural wonder. A short ride away, you'll discover De Koffieschenkerij, a charming café hidden within the Oude Kerk (Old Church), where you can savor a cup of coffee amidst centuries-old surroundings.
Pedaling deeper into the city's secrets, the tour unveils the Hollandsche Manege, a historic equestrian center, and the lush Hortus Botanicus, a hidden botanical garden teeming with rare plants. The NDSM Wharf unveils Amsterdam's industrial past turned into a vibrant creative hub, while Prinseneiland, T Nieuwe Diep, Kapitein Zeppos, and the Karthuizerhof beckon with their unique stories and hidden treasures, making this bike tour a truly immersive and memorable exploration of Amsterdam's hidden gems.
Highlights
• Onze Lieve Heer op Solder
• Nemo
• De koffieschenkerij
• Hollandsche manege
• Hortus Botanicus
• NDSM wharf
• Prinseneiland
• T Nieuwe diep
• Kapitein Zeppos
• Karthuizerhof
---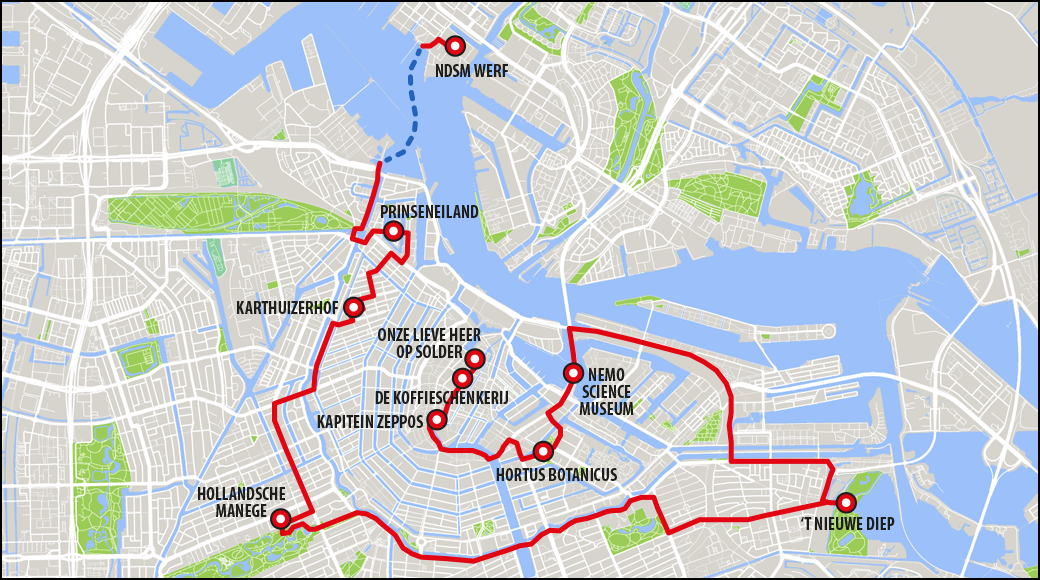 ---
1. Onze Lieve Heer op Solder
Is a historic Catholic hidden church in Amsterdam, known for its concealed presence within a 17th-century canal house.
2. The Nemo Science Museum
Located in Amsterdam, is a striking, ship-shaped building designed by architect Renzo Piano and serves as a popular interactive science and technology center for visitors of all ages. A hidden gem is the super nice sunny terrace on the top of the building.
3. Koffieschenkerij
Nestled in the heart of Amsterdam, is a charming and historic café located within the Oude Kerk (Old Church) courtyard, offering a cozy atmosphere and delicious coffee. Hidden gem: ask to go upstairs
4. The Hollandsche Manege
In Amsterdam is the oldest operating equestrian center in the Netherlands, boasting a rich history dating back to 1744 and providing a unique venue for horse enthusiasts and events in a stunning classical setting.
5. Hortus Botanicus Amsterdam
Established in 1638, is a historic botanical garden in Amsterdam renowned for its diverse collection of plant species and its role in the study of botanical science.
6. The NDSM Wharf
In Amsterdam is a dynamic cultural and creative hub located in a former shipyard, known for its vibrant street art, artistic events, and innovative businesses that have transformed the area into a thriving cultural destination. There are quite some hidden gems where it come to nice food & drinks
7. Prinseneiland
Is a picturesque and tranquil neighborhood in Amsterdam, characterized by its charming canals, historic warehouses, and a peaceful residential atmosphere. Prinseneiland is perfect to get away from the hustle and bustle. Tip:  get a nice sandwich somewhere and enjoy this "dessert island" during a lunch break.
8. Distillery 't Nieuwe Diep
Is located in a former pumping station of the Oetewater Polder in Amsterdam's Flevopark. The pumping station was built in 1880 and opened after restoration in mid-2010. The owners produce some 100 of their own genevers and liqueurs , which you can taste in Proeflokaal het Gemaal. 't Nieuwe Diep is in a unique spot in Amsterdam Oost, where you can sip a strawberry or apple jenever overlooking the water.
9. Kapitein Zeppos
Since 1987 the best kept secret in the old centre of Amsterdam. You will find Zeppos in the picturesque alley 'Gebed zonder End', located between the Nes, the Oudezijds Voorburgwal and the Grimburgwal. A hidden gem in the oldest part of Amsterdam, 100 meters walking distance from metro Rokin, exit Spui. Zeppos is a holiday at home partly because of its southern feel. You imagine yourself in France, Italy or Spain when you walk into the Gebed!
10. Karthuizerhof
In Amsterdam is a picturesque hidden garden oasis tucked away in the city, offering tranquility and a glimpse of historical charm amidst the urban hustle and bustle.
---