Kids bike rental prices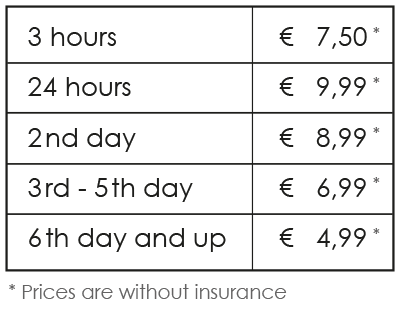 ---
Rent a kids bike in Amsterdam
 Are you looking to rent a kids bike in Amsterdam? We have them at Black Bikes. We have the largest choice of rental bikes in Amsterdam. Especially for children.
Apart from child's bicycles we offer kids tandems, bicycles for teenagers and cargo bikes suited to transport children and rental bikes with seat for children. So whatever age or size, we have the bike for your children.
Travel around the city on a Black Bikes rental bike and don't miss anything. Take your children to the parks, the zoo or the Dutch countryside.
Call +31 (0)85 273 74 54 or drop by one of our shops for more information about bike rental for children.
We have kids bikes at the following locations:
Black Bikes Leidseplein / Address: Lijnbaansgracht 283
Black Bikes City Centre / Address: Nieuwezijds Voorburgwal 146
Black Bikes Red Light District / Address: Oudekerksplein 62
Black Bikes Frederiksplein / Address: Falckstraat 47
Why rent a kids bike at Black Bikes?
When you want to rent a kids bike, you want to be sure it is as safe as possible. Our kid's bikes are well visible due to high quality lights and reflectors. All our rental bicycles for children come with close chain protectors.
The Black Bikes kids bikes are sturdy and as simple as possible, so children can't hurt themselves with the bicycle. The kid's bikes we rent are of a premium quality and have been tested extensively for safety.
Furthermore it is very important the bicycle is the right size for your child, so he or she can easily get on and off the bicycle. Our employees can assess whether the sizes we provide are suited for your child. If we don't have the right size available we can provide a bicycle with a child seat, a kidstandem or a cargobike. Of course we can help you with adjusting the height of your seat.
Protecting your child on a rental bike
As protection Black Bikes offers helmets for children. Rent a helmet together with the kids bike and make sure your child is 100% safe on the streets of Amsterdam.
Insurance
Theft & damage insurance
3 hours: €3,75
24 hours: €4,99
Rental neccesities
Valid ID.
Specs

Handbrakes
Adjustable seat
Premium quality locks
20 inch wheel