Bike rental with child seat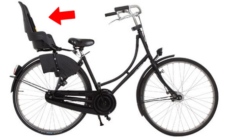 Book now
Amsterdam / Utrecht / Haarlem / The Hague
Child seat bike rental prices
---
Rent a bike with child seat 
Do you want to see Amsterdam by bike and travel with your child? Black Bikes has the perfect solution: a child seat on the back of your rental bike. The rear seat can be attached to the bicycle and has straps and footrests for ultimate safety. So enjoy Amsterdam by bike knowing that your child sits safely behind you!
Note: Child seats are only available on a standard bicycle with hand brakes. If your child is still a baby, consider having a look at our rental bikes with front seats.
Rent a kids' bike seat in Amsterdam
Black Bikes is the expert when it comes to rental bikes in Amsterdam. With 16 rental locations across Amsterdam, you can easily find a bike rental location near you. Another benefit is that you can return your rental bike with a child seat to any of these locations.
Besides Amsterdam, we also have a location in the centre of Utrecht, Haarlem and The Hague. This gives you even more options to explore the best cities in the Netherlands. Easily rent a child seat at one of our locations.
Why rent a bike with a child seat from Black Bikes?
Our sister company Het Zwarte Fietsenplan is the bicycle expert in Amsterdam, and you benefit from that knowledge at Black Bikes. So you will always rent a child seat in top condition!
You can always contact one of our 19 locations in the unlikely event of problems. And if you're cycling through Amsterdam, one of our rental locations is always near you!