What we do
Black Bikes is part of the Amsterdam-based "Het Zwarte Fietsenplan" bike stores. Every day our certified and professional mechanics repair, assist and guide Amsterdammers with the most precious item of their daily routine: the bicycle. We have been doing so for more than 10 years. Our staff has repaired over 300.000 bicycles…not counting our own rental bikes.
In our shops it's possible to purchase bicyles, too. We stock a wide range of Dutch top brands such as; Gazelle, Batavus, Azor, Roetz, Sparta, Urban Arrow…. and so on…..Our employees can tell you a lot more about these bikes. We believe that visitors of Amsterdam deserve to experience this city of freedom on a Dutch hand-built black bike. Become one of the locals.
Sale
Gazelle
Urban Arrow
Cortina
BSP
Azor
Pegasus
Spark
Union
Giant
Batavus
Sparta
More than 100.000 bikes sold
Repair
City bikes
Cargo bikes
Touring bikes
Race Bikes
Road bikes
Mountain bikes
Folding bikes
Fixed gear
Track bikes
E-cargo bikes
More than 50.000 repairs per year
Rental
Hop on drop off
21 shops
Dutch handmade bikes
Online booking
Highly trained staff
More than 1.000.000 happy rentals
Who are we?

Our Mechanics
Our mechanics work every day of the year to make sure your Black Bike rides like you are the first person to ride it every time!

Rental Employees
Our friendly rental employees are the cornerstone of Black Bikes, without them you wouldn't be able to rent a bike!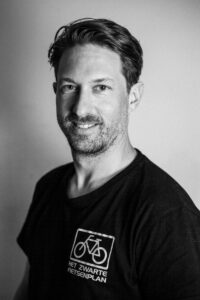 Piet – CCO (Chief Cycling Officer)
Has been working almost for 7 years in the bicycle business.
Starting as a shopmanager selling & repairing bicycles in Amsterdam, to becoming overall commercial manager of the "Het Zwarte Fietsenplan" shops. With a little intermezzo in online marketing & sales he joined the management team in 2013 to take on the rental department of Black Bikes. He likes to play metal which is not always appreciated by his colleagues.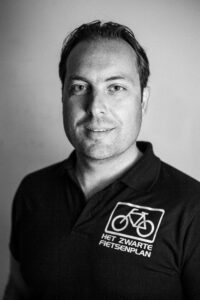 Enzo – Sales Manager
Enzo was born and raised on the beautiful Italian Amalfi coast. There he was trained and experienced in true original hospitality. Enzo moved with his Dutch wife and his kids to Amsterdam 2 years ago and has since then been working for Black Bikes. Hij spreekt al een klein beetje Nederlands.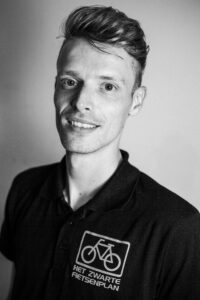 Johan – Supervisor / Online Marketeer

Johan started as a intern at our company many years ago (before the smartphone). Through the years Johan has developed amazing online & people skills. Warning: Do not mess with his energy drink.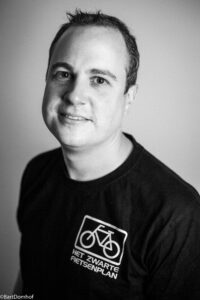 Michel – Human Resources Manager
Michel is as old as the company and knows most of all. Just like Johan he started doing his thesis on the company and worked his way from the mailroom to where he is now. He looks very serious, but do check him on a company party and see the difference.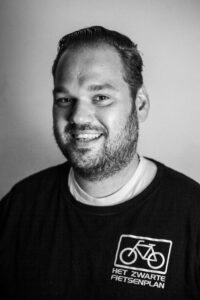 Job – Financial Manager
The man of numbers. Having the most experience in total years of studying, Job knows his finance.  Job oversees quite an impresive team at our office and has a keen eye for any irregularities in Excel sheets….awesome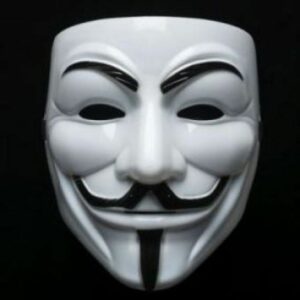 Vincent – motivator
This man used to be a cook in high level restaurants across Amsterdam. We are not allowed to name them because he is very fond of his online non appearance …which we obviously respect.  He works in stealth mode and is a driving force in motivating our staff.
Black Bikes
Black Bikes is owned by the company named "Het Zwarte Fietsenplan". This is a big and well-known bicycle retailer in The Netherlands. Het Zwarte Fietsenplan only delivers high-quality bikes, that's why all rental bikes of Black Bikes are handmade and high in quality.
Het Zwarte Fietsenplan is bicycle selling company since 2005. The company started with one shop and has 17 shops in The Netherlands right now, but it aims to grow even more. Black Bikes is also expanding its shops.
Black Bikes wants to make it easy for the consumer by placing shops in all areas. This way with our hop on drop off system our guests can enjoy our service in all directions.