Adult tandem bike rental prices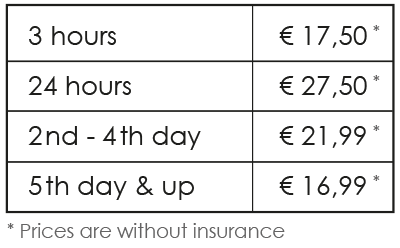 ---
Rent a tandem bike in Amsterdam
You want to rent a tandem bike in Amsterdam? Then you come to Black Bikes. With 14 different rental stations in Amsterdam and years of experience we are the expert of Amsterdam when it comes to tandem bike rental.
Our rental tandems are safe, sturdy and comfortable. We will make sure you have the best experience. We can help you with all your questions regarding the bicycle or the highlights of the city. And you can return your bicycle to any of our 13 locations in town.
Find out where you can rent a tandem bike in Amsterdam below. It is not yet possible to rent a tandem bikes at our locations in Haarlem, Den Haag or Utrecht.
Why rent a tandem bike?
 Riding a tandem bike is the perfect experience for friends or couples. Because your sitting close it is easy to talk while riding the tandem. You really experience the city together.
Moreover it is a fun, active and adventuress way to explore Amsterdam. You want to take it easy? On the back seat it is super relaxed and you have all the time to have look around.
Renting a tandem is a unique experience. Riding a tandem bike is not something you do every day. And what could be a better place to have a ride on a tandem than Amsterdam?
Rental stations with tandem bikes in Amsterdam
With multiple rental stations in the centre of Amsterdam there is always one station near you in the city centre. You can return the tandem rental bike at any of our locations. You want to find out where the nearest Black Bikes station is for you? Check our website or call +31 (0)85 273 74 54 and within a few minutes you are at the closest Black Bikes location. There is plenty to see in Amsterdam, with a Black Bikes tandem you can discover all of it in a fun and efficient way.
Book your tandem rental bike now and make the most of your time in Amsterdam.
Riding a tandem bike with your child
Renting a tandem bike is also prefect when you are with children. You don't have to keep an eye on them all the time so you can relax more. Find out more about our special kids tandem bikes.
Black Bikes tandem bikes
All our tandem rental bikes come with 7 gears and hand breaks. Black Bikes tandems are of premium quality and easy to handle. The tandem bikes come standard with an insurance against damages and theft. All of this allows you to ride your bicycle carefree.
Did you know?
A tandem bike can go faster than a single person bicycle because you have twice the power, but barely more drag. Try to get a good pace and you'll notice hardly anyone can keep up.
Insurance
There is a theft and damage insurance, which is 50% of the rental price.
Rental necessities
Valid ID.
Specs
Handbrakes
7 gears
Safety locks