e-Bike rental prices
(all damage guarantee)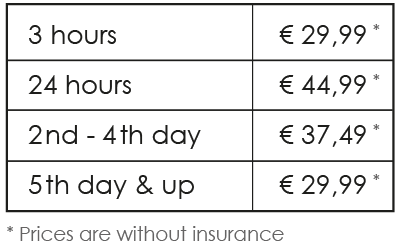 ---
Renting an electric bike
Do you want to rent an electric bike in Amsterdam? Then you've come to the right place at Black Bikes. You can rent high quality electric bikes with us at a fair price. Our electric bicycles are quiet, powerful and comfortable. You will glide over the road, it's the ideal bike for longer trips in and around Amsterdam. Our e-bikes are delivered with a charged battery and the charger is of course included.
Where and how?
We rent out electric bikes at three of our Amsterdam locations: Frederiksplein, Leidseplein and City Centre and in our shops in Utrecht and Haarlem.
E-bikes cannot be reserved through the booking form. Would you like to make a reservation for an e-bike? Please send an email to reservations@black-bikes.com. We will then contact you as soon as possible! We recommend that you request an e-bike at least 36 hours in advance. Please indicate the location, date and time of pickup in your request.
Good idea!
Cycling in Amsterdam is great fun and good for your health. For longer distances, a bit of support can be nice. With an electric bike you always have that at hand. The amount of pedal support is easy to adjust and even at the highest setting, the battery of our electric rental bikes will last for hours. There are many charging points for bicycle batteries in the Netherlands, so you can make the bicycle tour as long as you want. Compared to a scooter or car, an electric bicycle is a relaxing, healthy and environmentally friendly alternative.
Insurance
Theft and damage insurance is already included in the price.
Rental necessities
Valid ID (passport or European identity card, not a driving license). Per e-bike, a credit card authorization (no Amex) of € 500,- is required.
Extra
An e-bike is rented for a maximum of 5 days.
There is no hop on drop off possibility. An e-bike needs to be picked up and returned at the same location.
Specs
Handbrakes
3 Gears
Electric support
Safety locks