Contents
Practical Information for Your Visit to Amsterdam
Part of the planning process is familiarising yourself with practical tips to ensure a smooth and enjoyable experience. 
Here's some quick but essential information:
The currency

in Amsterdam is the Euro (€). 

Payment methods

are rarely an issue in Amsterdam. Most places accept debit and credit cards (Visa, Mastercard, American Express) and contactless payments (Apple Pay, Samsung Pay, and Google Pay). However, it's always a good idea to have some cash on hand just in case cards are not accepted.

The primary language

is Dutch, but you'll find that many locals speak English fluently. 

The country calling code

for the Netherlands is +31.

The best time to visit Amsterdam

is from April to September, when the city comes alive and the temperatures are mild. However, if you prefer fewer crowds, consider visiting during the shoulder seasons of spring (April-May) or autumn (September-October). Winter in Amsterdam has its own unique charm but be prepared for colder temperatures and shorter daylight hours.

Amsterdam is a safe city for travellers.

However, it's wise to take common-sense precautions like any major city. Keep an eye out for your belongings in crowded and tourist areas. And stick to well-lit and populated areas, particularly at night.

You can best explore Amsterdam by bike.

Of course, our love for bikes makes us a little biassed. That said, cycling is deeply ingrained in Dutch culture. Amsterdam has a bike-friendly infrastructure, including dedicated bike lanes, traffic signals, and bike parking facilities with many,

many,

bicycles.
Armed with these practical tips, you'll be well-prepared to make the most of your time in Amsterdam. So, now let's dive into the exciting possibilities for exploring the city!
10 Best Places to Visit in Amsterdam
The capital city of the Netherlands is a vibrant destination known for its picturesque canals, rich history, and cultural treasures. From iconic landmarks to charming neighbourhoods, here is a curated list of the best places to visit in Amsterdam.
1. Grachtengordel: The Famous Amsterdam Canal Belt
Explore the iconic Amsterdam Canal Belt, known as Grachtengordel, a UNESCO World Heritage site characterised by its famous canals, charming bridges, and elegant canal houses. Discover cosy cafes, boutique shops, and hidden courtyards as you explore the canal belt – a perfect activity to do by bike.
2. Jordaan: Explore Artistic Vibes
Immerse yourself in the artistic vibes of Jordaan, a trendy and vibrant neighbourhood with a rich cultural heritage. Once a working-class area, Jordaan is now known for its art galleries, vintage boutiques, and lively markets. Don't miss the opportunity to visit the famous Noordermarkt, where you can browse antiques, enjoy local food, and soak up the neighbourhood's creative energy.
3. Oud-West: Where Trendy Meets Residential Bliss
A laid-back atmosphere with a vibrant twist characterises this area. Visit the food hall, De Hallen, which features an array of food stalls, a cinema, and a boutique hotel. Bike through Oud-West to encounter cosy parks, stylish bars, and international cuisines. And take a break and explore the unique shopping opportunities along Jan Pieter Heijestraat and Kinkerstraat.
4. Museumkwartier: Amsterdam's Enchanting Museum Quarter
Discover a treasure trove of art and culture in this neighbourhood, home to some of the city's most renowned museums and cultural institutions like the Rijksmuseum, Van Gogh Museum, and Stedelijk Museum. We recommend booking your tickets in advance in case you want to marvel at some impressive artwork.
But also don't forget to admire the architectural masterpieces like the Concertgebouw. And snap a selfie with the iconic "I Amsterdam" sign.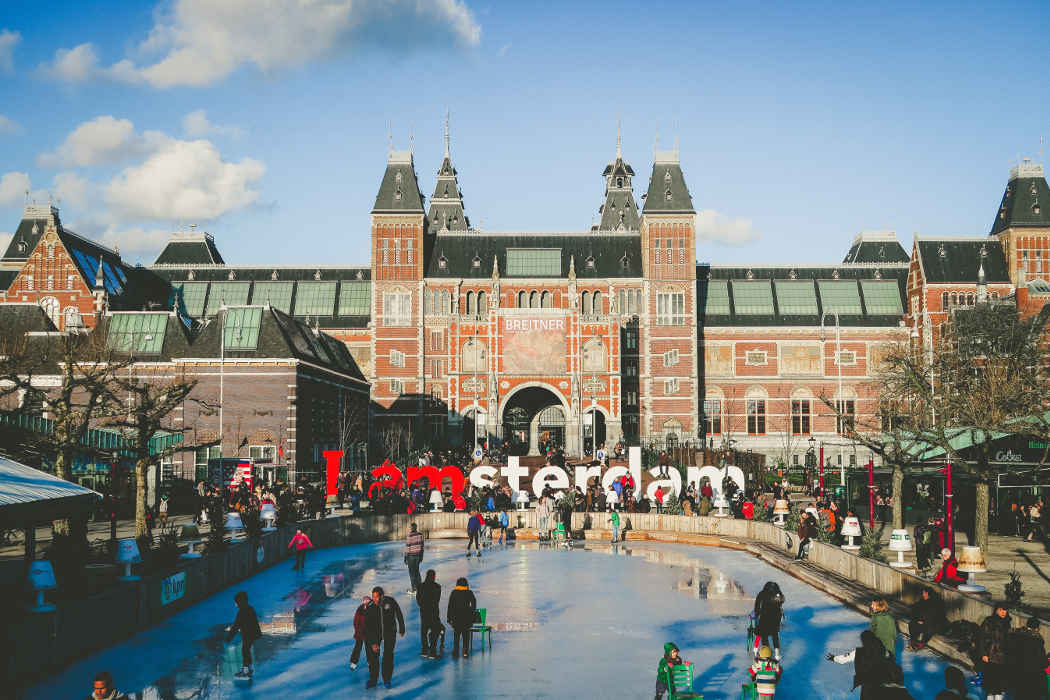 5. De Pijp: The Vibrant Heart of Amsterdam
Neighborhood De Pijp is famous for its street market. At the Albert Cuyp Market, you can find everything from fresh produce to unique souvenirs. Cycle through De Pijp and soak up the energetic atmosphere filled with trendy bars, restaurants, and cosy cafes. And explore the Sarphatipark, a peaceful green oasis perfect for a relaxing picnic under the trees.
6. De Wallen: Explore the Iconic Red Light District
Experience the unique and iconic Red Light District, known as De Wallen. This hub is famous for its narrow streets lined with red-lit windows. Here you'll find bars, clubs, and adult-themed venues. And also take a moment to appreciate the historic architecture and learn about the district's intriguing history.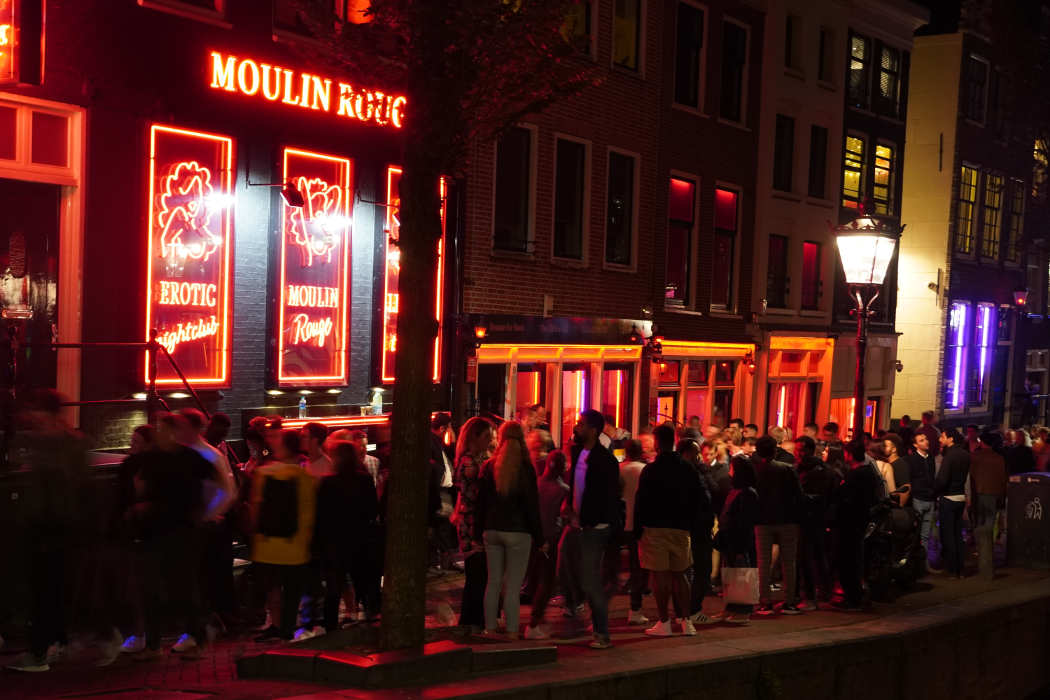 7. Westerpark: A Harmonious Blend of Nature and Entertainment
Escape to Westerpark, a former industrial area transformed into a lively park with sprawling green spaces, picturesque lakes, and cultural venues. It's the perfect place to discover by bike. And unwind at one of the outdoor cafes, grab a local beer from brewery Troost, enjoy live performances, and appreciate nature's beauty.
8. Negen Straatjes: Vintage Delights in Amsterdam's Charming Streets
De Negen Straatjes, also known as The Nine Streets, is located in the heart of the canal belt. It's a paradise for shopaholics, featuring a mix of unique boutiques, vintage stores, and designer shops. Walk or cycle through the cobblestone streets and browse the diverse shops to find hidden treasures. Also, don't forget to take a break and enjoy a delicious meal at one of the neighbourhood's trendy restaurants.
9. Plantage: Where Serenity and Culture Unite
Plantage offers a perfect blend of nature, history, and culture. It's known for its green spaces and cultural attractions, like the beautiful Artis Royal Zoo, the Hortus Botanicus botanical garden, and several museums, including the Jewish Historical Museum and the Dutch Resistance Museum. It's another charming area to explore by bike.
10. Discover the Western Harbor at Prinseneiland
Venture off the beaten path and explore the charming Prinseneiland neighbourhood in Amsterdam's Western Harbor. Cycle along the tranquil canals and admire the picturesque warehouses and historic buildings that give this area its unique character. With its quiet ambience and scenic views, Prinseneiland is a perfect destination to soak in the charm of Amsterdam's lesser-known gems.
23 Things to Do in Amsterdam
Amsterdam is a dynamic and culturally rich destination with different experiences serving a broad audience. No matter what you like to do, Amsterdam has something for you. Here's a list with some ideas.
1. Explore Hidden Gems on a Cycling Adventure
Of course, you must explore Amsterdam like a local and uncover many gems like hidden courtyards, vibrant street art, and charming markets. Discover secret gardens like the Hortus Botanicus or pedal through lesser-known neighbourhoods like De Baarsjes and Oud-Oost. Rent a bike and embrace the freedom of two wheels.
2. Try the Best Dutch Fries at Vleminckx
Vleminckx de Sausmeester is a must-visit street food spot in Amsterdam, located in the city centre. It's renowned for its delicious Dutch fries (patat) served with a wide range of flavorful sauces. We recommend trying their freshly fried, crispy fries with a dollop of mayo, satay sauce, or other tasty toppings for an authentic Dutch snacking experience.
3. Visit Rijksmuseum and Bike Underneath Its Grand Facade
When you explore Museumplein, take advantage of the opportunity to visit the iconic Rijksmuseum. This institution is dedicated to art, history, and culture, housing an extensive collection that spans centuries. Wander through the magnificent halls, admiring masterpieces by Dutch masters such as Rembrandt and Vermeer.
4. Delve into Art at the Van Gogh Museum
Visit the museum dedicated to the work of Vincent van Gogh and immerse yourself in the world of this famous Dutch artist. Admire the vibrant paintings and gain insight into Van Gogh's artistic journey. You can explore the collections and exhibitions at your own pace. Are you planning to go? Then ensure to get your tickets beforehand.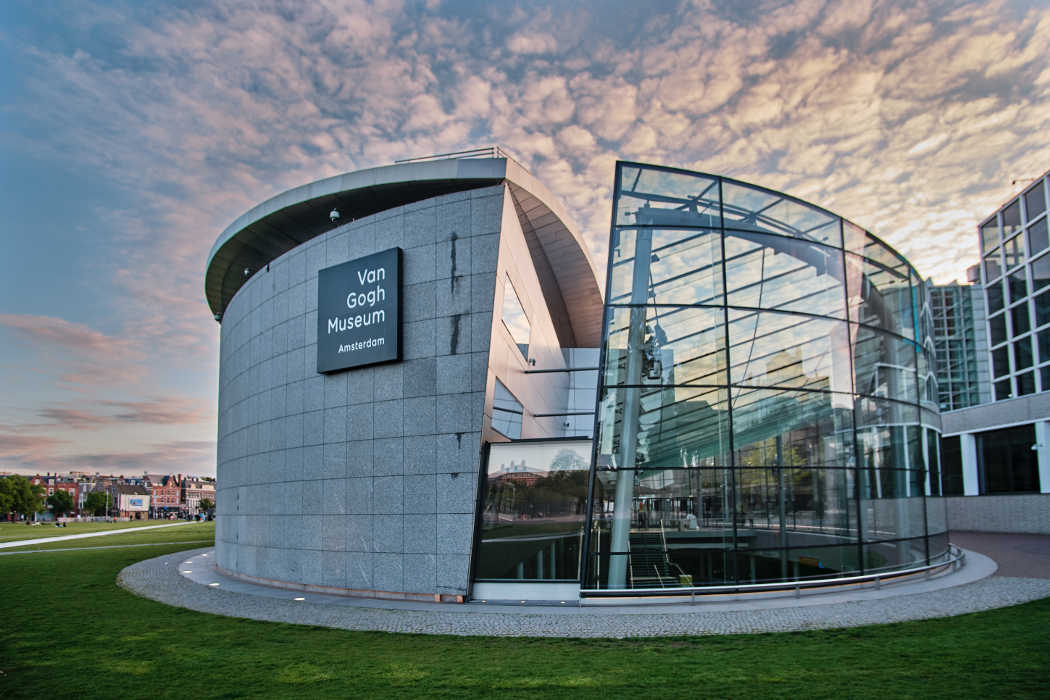 5. Step into Anne Frank's World
Pay homage to an extraordinary piece of history by visiting the Anne Frank House. Cycle to Prinsengracht, where you can find the Anne Frank House. Devolve into the heartbreaking story of Anne Frank and her hiding place during World War II. Explore the museum's exhibits, walk through the hidden rooms, and gain a deeper understanding of the impact of the Holocaust. 
Due to its popularity, the Anne Frank House can have long queues, especially during peak tourist seasons. For the same reason, booking your tickets online in advance is often necessary.
6. Cruise Along Canal Houses and Bridges
Walking or cycling is the perfect way to explore Amsterdam's enchanting canals. Cycle past the elegant canal houses with their distinctive facades and charming bridges. Absorb the romantic atmosphere as you glide along the water's edge, taking in the scenic beauty and the unique architectural heritage that defines the city.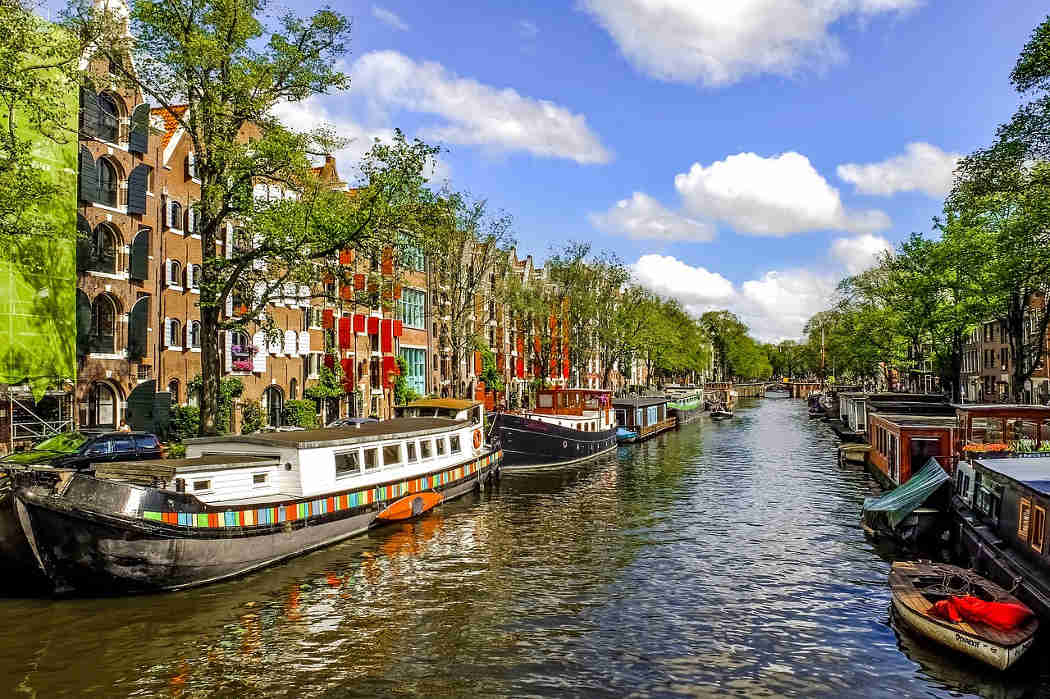 7. Take a Scenic Canal Cruise
Embark on a memorable cruise and see the city of Amsterdam from a different perspective. Many companies offer guided boat tours that allow you to admire the city's picturesque canals, canal houses, and iconic bridges. A canal cruise adds a unique dimension to your adventure.
8. Hop on a Free Ferry and Discover Amsterdam Noord
Embark on a cycling adventure across the IJ River to Amsterdam Noord, an up-and-coming neighbourhood with a great cultural scene. Hop on a free ferry from Amsterdam Central Station and explore the transformed NDSM Wharf, a former shipyard turned creative hub. Pedal through industrial landscapes adorned with street art, visit art galleries, enjoy waterfront dining, or relax at the urban beach.
9. Enjoy Concerts and Shows at World-Famous Venues
Attend a concert or show at one of Amsterdam's iconic venues, like Paradiso or Melkweg. These locations host international and local artists across various genres. Let the rhythm guide you through Amsterdam's musical landscape, whether it's a rock concert, jazz performance, or electronic music event.
10. Sip Drinks with a Panoramic View at Rooftop Bars
Elevate your Amsterdam experience by visiting one of the city's panoramic rooftop bars. Three popular options include SkyLounge Amsterdam, W Lounge, and Volkshotel. Enjoy panoramic views of the city's skyline while sipping your favourite beverage. And marvel at the iconic landmarks and bustling city below.
11 Hunt for Unique Finds at Europe's Largest Flea Market
Embark on a treasure hunt at the vibrant Waterlooplein Flea Market, the largest flea market in Europe. Browse the stalls selling vintage clothing, antiques, books, jewellery, and much more. You may even find some hidden gems, bargains, or one-of-a-kind souvenirs.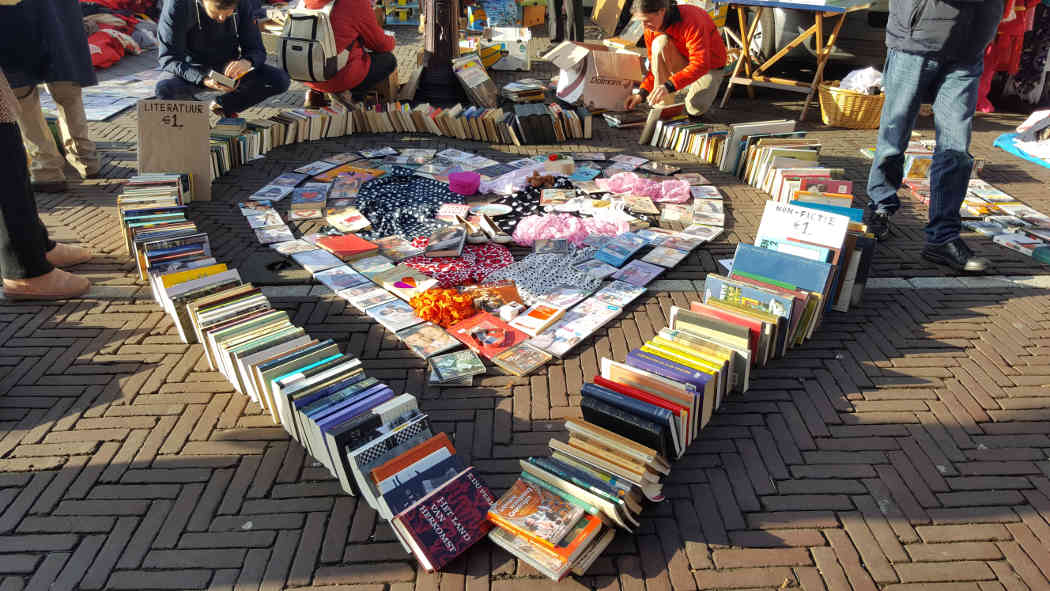 12. Experience Culture, Film, and Architecture at IJ
Explore the culture of the IJ area, a vibrant waterfront district known for its unique blend of culture, cinema, and architecture. Ride your bike to EYE Film Institute, a striking modern building dedicated to film, where you can catch international arthouse movies and exhibitions.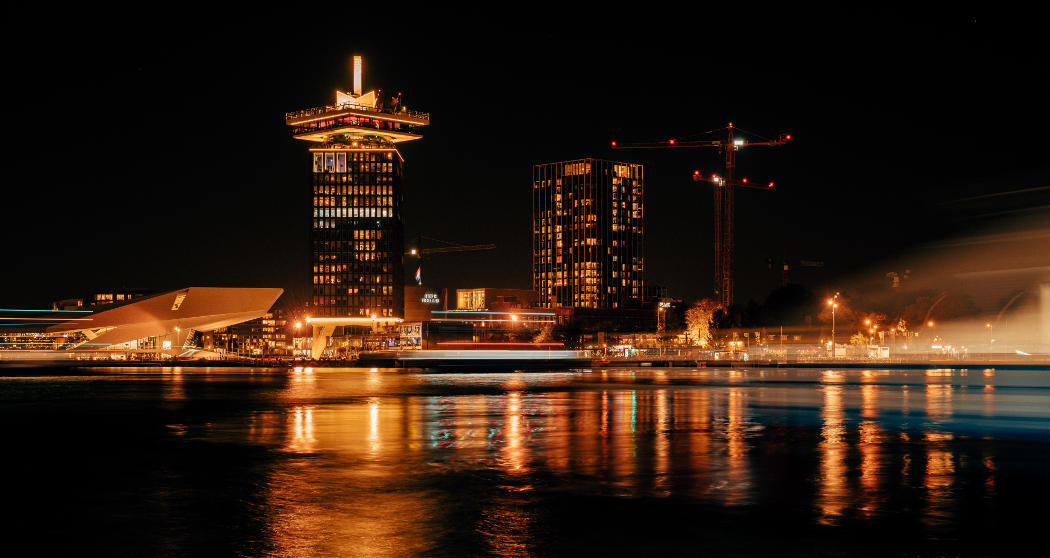 13. Swing Ove
r the Top Rooftop of the A'Dam Lookout
For those seeking an adrenaline rush, head to the rooftop of the A'Dam Lookout for an exhilarating experience with the Over the Edge Swing. It's a thrilling attraction that will leave an unforgettable moment. And don't forget to soak up the breathtaking panoramic views of the city on top of the A'dam Tower.
14. Explore Independent Shopping Streets in Amsterdam
Discover the charm of Amsterdam's independent shopping streets like De Negen Straatjes (The Nine Streets) and Haarlemmerdijk. These bustling streets are filled with trendy boutique shops, vintage stores, and unique concept stores. Indulge in a shopping spree for fashionable clothing, handmade accessories, quirky home decor, and more. 
15. Sample Culinary Delights at Food Stalls in a Former Tram Depot
Head to Foodhallen in a renovated former tram depot in Amsterdam's Oud-West neighbourhood. This indoor food market is a paradise for food lovers, offering various culinary delights from international cuisines. Can't choose? Sample bites from the diverse food stalls. From gourmet burgers to sushi, artisanal cheeses to craft beers, there's something to satisfy every craving.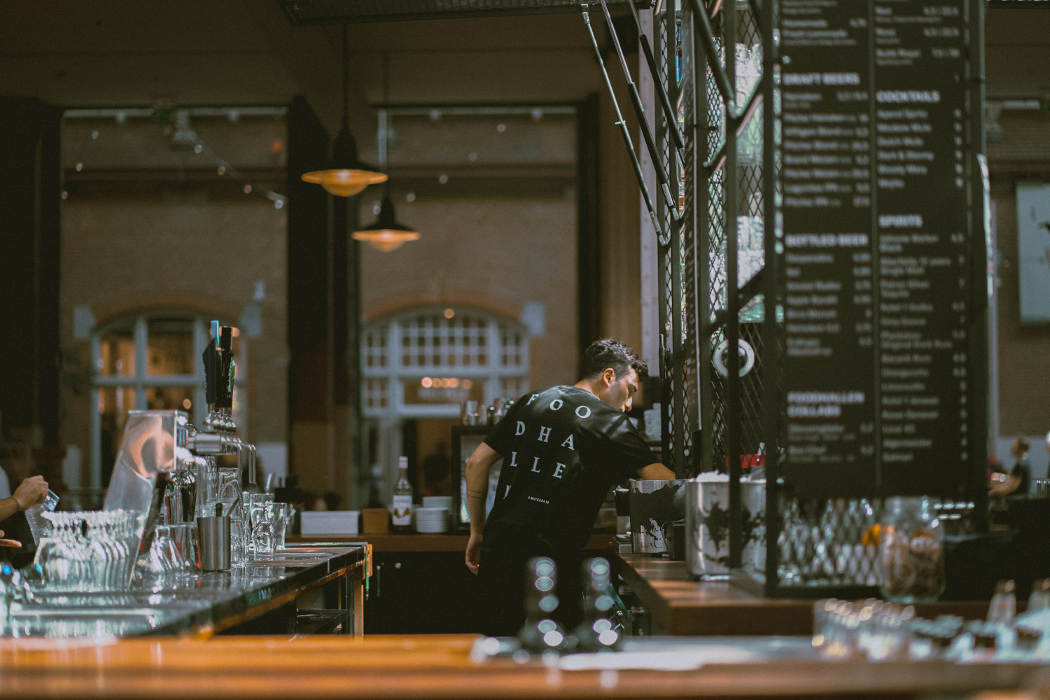 16. Live Like Dutch Royalty in Amsterdam
Visit the Royal Palace in the inner city's centre, located in Dam Square. This majestic palace showcases the grandeur of the Dutch monarchy. Tour the lavishly decorated rooms, marvel at the intricate architecture, and learn about the rich history of the Dutch royal family.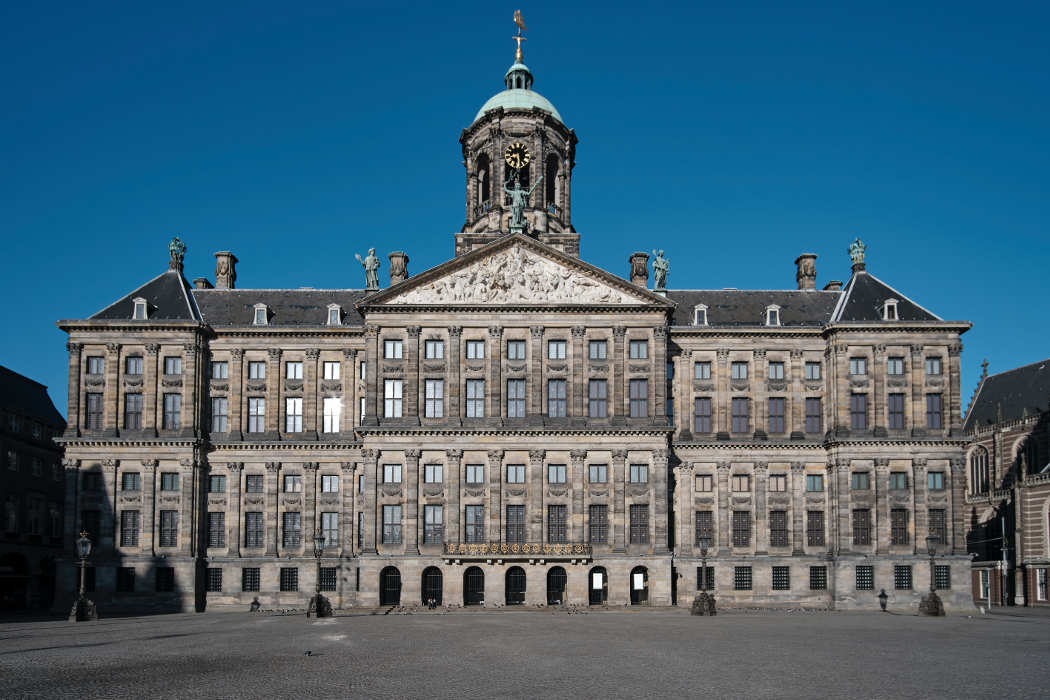 17. Visit Amsterdam Central Station, an Architectural Marvel
This impressive transportation hub serves as a gateway to the city for many visitors, and also has some of the largest and most impressive bike parking facilities. The station itself is a stunning architecture that seamlessly combines historic and modern elements.
18. Relax in Vondelpark, Amsterdam's Iconic Green Oasis
Escape the busyness of the city and make your way to Vondelpark, Amsterdam's most famous park. With its lush greenery, serene ponds, and winding paths, Vondelpark offers the perfect setting for a leisurely bike ride and picnic. Alternatively, enjoy a typical Dutch meal at the park's charming pancake house or visit the petting zoo, where you can feed friendly goats and interact with other animals.
19. Visit the Tallest Wooden Windmill in the Country
Make a stop at De Gooyer Molen, a historic windmill in Amsterdam's heart. Known as the tallest wooden windmill in the Netherlands, it stands proudly as a testament to the city's rich heritage. Park your bike nearby and take a moment to admire this iconic landmark's intricate craftsmanship and towering presence. Capture a photo of this Dutch symbol and continue your journey through the charming streets.
20. Taste Local Beer at a Historic Brewery
A visit to Brouwerij 't IJ is a must for beer enthusiasts, located beneath the iconic windmill, De Gooyer. Enjoy one of the flavorful, unique, and refreshing brews on the sunny terrace, surrounded by the charming ambience of the neighbourhood. Experience the rich brewing traditions and savour the taste of local craftsmanship.
21. Admire Amsterdam's Last Wooden Church at Amstelveld
Discover the hidden gem of Amstelveld, home to Amsterdam's last remaining wooden church. This charming square is a peaceful oasis with the Amstelkerk as its centrepiece. Stroll around the area and marvel at the unique architecture.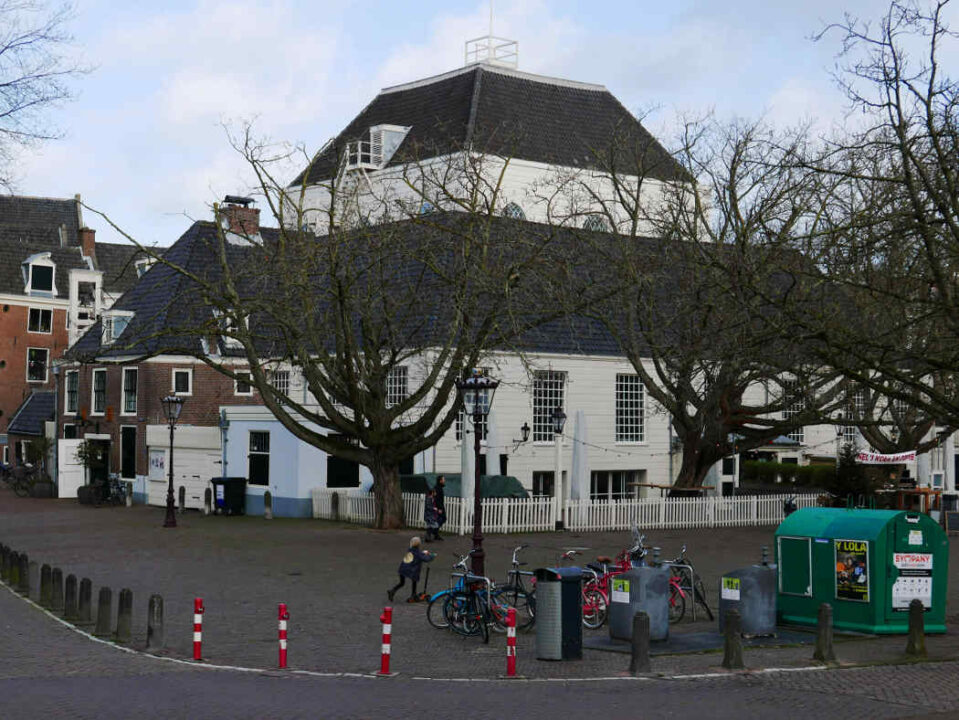 22. Indulge in Traditional Herring from a Local Cart
Immerse yourself in Dutch culinary culture by trying traditional herring from a local cart. This iconic street food delicacy is a must-try when visiting Amsterdam. Grab your bike and head to a nearby market or discover any other fish stalls in the city, where you can enjoy freshly caught herring served with onions and pickles.
23. Embrace Nature at Het Amsterdamse Bos
Escape the urban landscape and immerse yourself in the natural beauty of Het Amsterdamse Bos (Amsterdam Forest), a vast forested area on the city's outskirts. This sprawling green oasis offers a tranquil retreat where you can cycle through wooded trails, enjoy picnics by serene lakes, and spot wildlife in their natural habitat. 
These are some of the best activities that can't be missed in any city guide of Amsterdam. But while Amsterdam is a fantastic city to explore, don't forget about the best things to do in nearby areas.
6 Things to Do Nearby Amsterdam
Amsterdam offers an abundance of attractions. But there are also some great experiences to discover outside the city. Perfect if you want to take a longer bike ride and explore more of the Dutch culture.
1. Experience the Countryside and Visit Iconic Windmills
Escape the hectic city life and embark on a trip to explore the Dutch countryside. Marvel at the iconic windmills of De Zaanse Schans, a historic village within an hour bike ride from Amsterdam. Cycle through scenic landscapes, passing tulip fields, charming villages, and serene canals. 
Want to get out of the city for the entire day? Then combine the Zaanse Schans with a bike ride along the coast.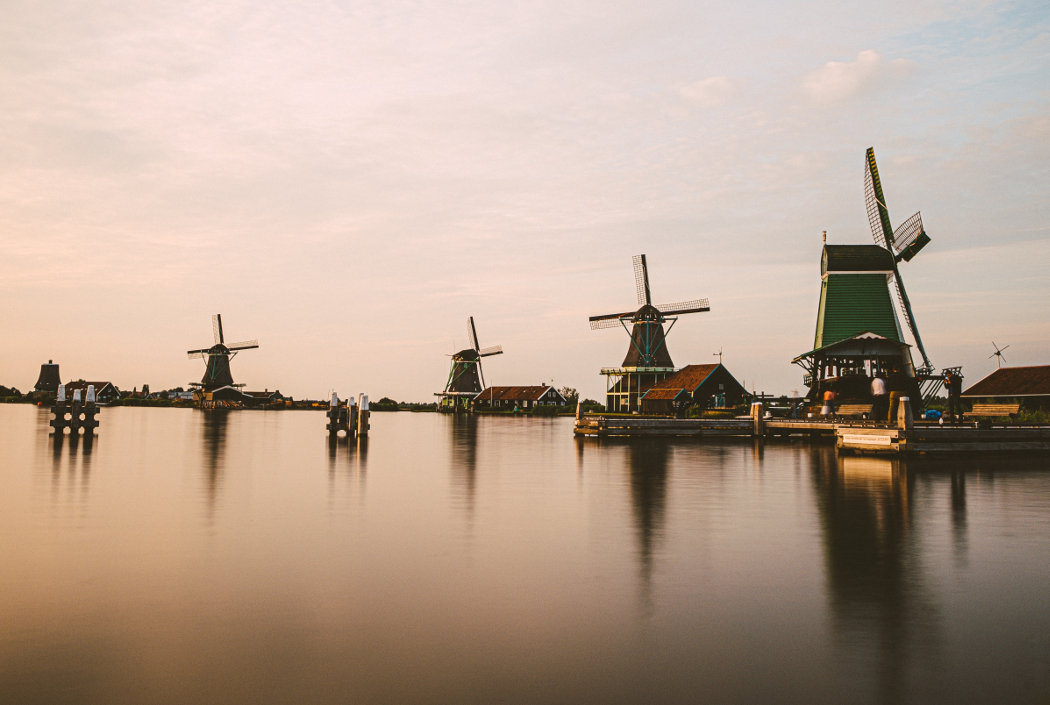 2. Escape to the Coast and Ride Along the Dikes
For an extra adventure, head to the nearby coastal towns of Zandvoort or Bloemendaal to enjoy sandy beaches and refreshing sea breezes. The bike paths along the coast make for a joyful ride. This option is also about a one-hour bike ride from Amsterdam.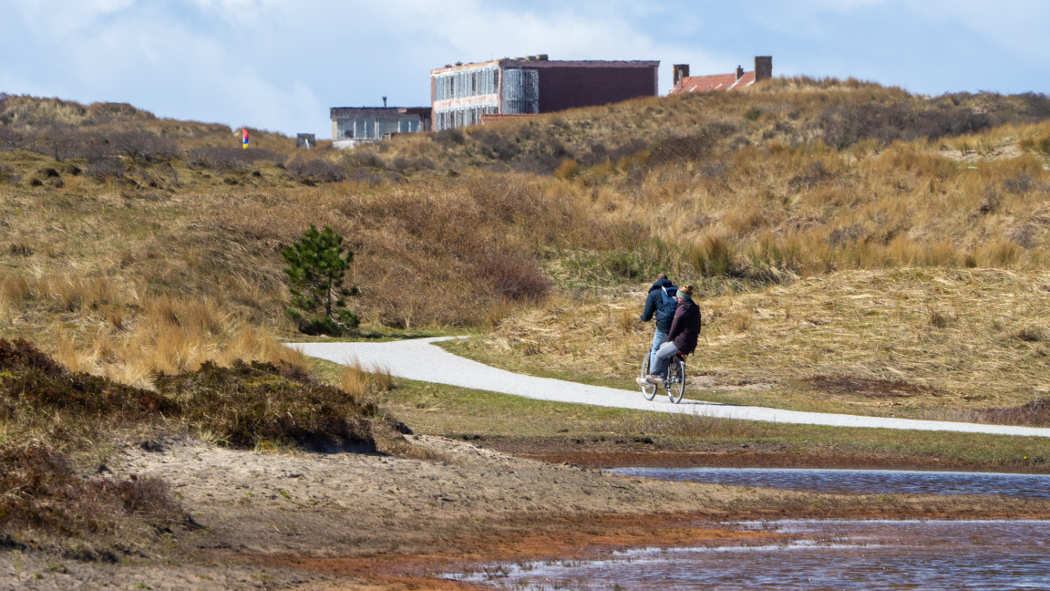 3. Discover the Historic Castle Muiderslot near Amsterdam
Embark on a bike excursion to the enchanting Muiderslot, a mediaeval castle just outside Amsterdam. This well-preserved fortress offers a glimpse into the region's rich history and is a captivating experience for visitors of all ages. Park your bike and explore the castle's chambers, halls, and beautiful gardens. Learn about the castle's past through interactive exhibits and guided tours. With its picturesque setting and fascinating stories, Muiderslot is an ideal destination for a bike ride that combines history, culture, and natural beauty.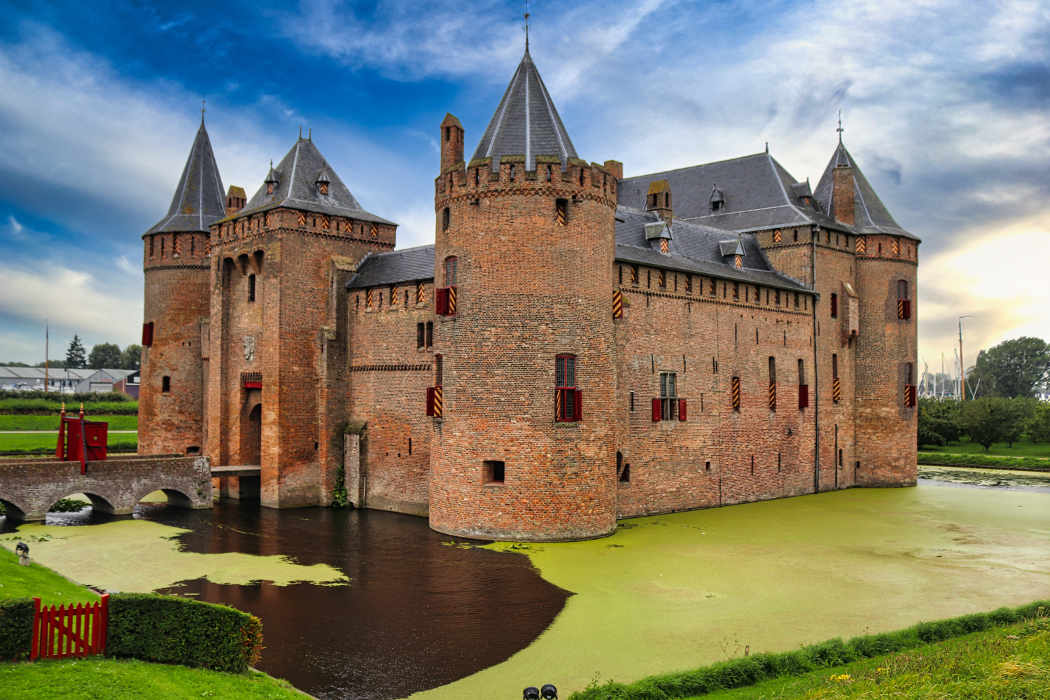 4. Admire Tulips in Bloom
From the end of March to the beginning of May, you can experience the vibrant colours and beauty of tulips in bloom at the world-famous Keukenhof Gardens. It's perfect for those who love nature, want to take in the sweet fragrances, and capture breathtaking photos. You can visit Keukenhof by bike from Amsterdam, but it will take you about 2 hours to get there (one way). However, you do get to ride through the picturesque Dutch countryside. Of course, you can use other means of transportation too.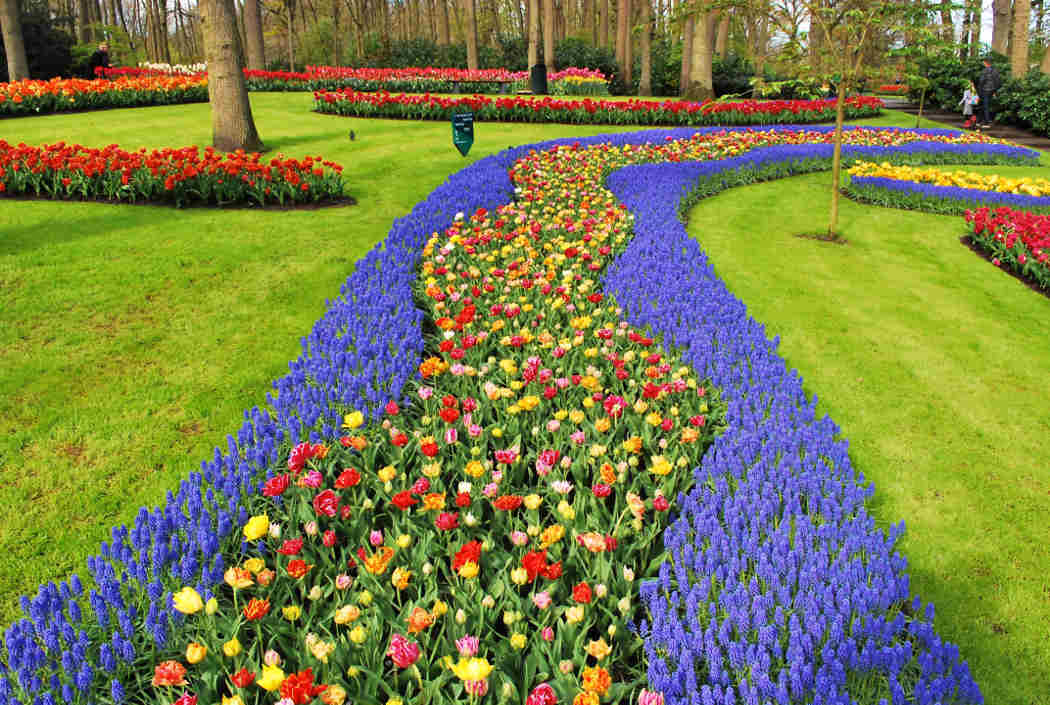 5. Visit the Charming Village of Volendam
Explore the quaint village of Volendam, renowned for its traditional Dutch houses, vibrant harbours, old fisher boats, and cultural heritage. Learn about the village's history and thriving fishing industry. And while you wander along the waterfront, make sure you try the fresh seafood.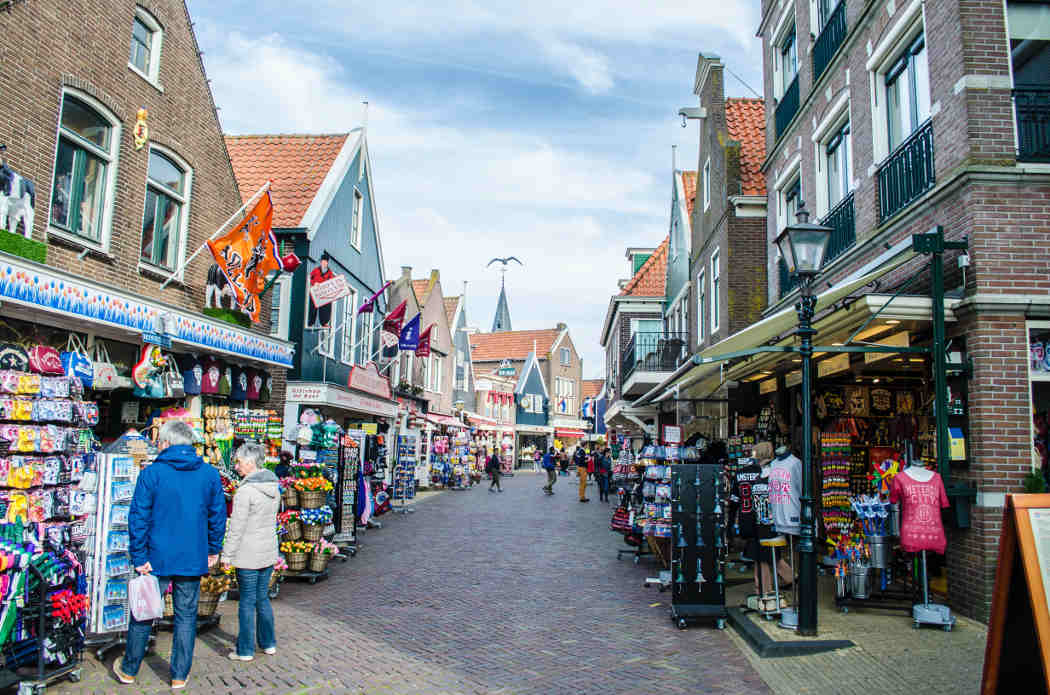 6. Don't Forget About the Charm of Other Remarkable Cities
While Amsterdam may steal the spotlight, its incredible neighbouring cities offer their own unique allure. Expand your horizons and explore:
Haarlem:

Within a one hour bike ride or just a short train ride from Amsterdam, you'll find Haarlem with its canals, historic architecture, and a vibrant cultural scene. Stroll through the charming streets, visit the Frans Hals Museum, and savour the cosy atmosphere of local cafes and boutiques.

Utrecht:

Known for its stunning mediaeval city centre, Utrecht combines rich history with a lively modern vibe. Climb the iconic Dom Tower for panoramic views, wander along the scenic canals, and immerse yourself in the city's vibrant arts and music scene.

The Hague:

As the political capital of the Netherlands, The Hague offers a sophisticated blend of culture, history, and stunning coastal scenery. Explore renowned museums like the Mauritshuis, wander through beautiful parks and gardens, and soak up the beachfront atmosphere at Scheveningen.
Discover the hidden gems of these remarkable cities and experience the diversity of Dutch culture beyond Amsterdam. To make your exploration even more convenient, Black Bikes has bike rental locations in each city, allowing you to seamlessly discover their charms on two wheels.
6 Typical Dutch Foods and Snacks You Must Try
The Netherlands has a rich culture, which includes typical foods. Make sure you try some of those when visiting Amsterdam:
Dutch cheese

is what the Netherlands is most famous for. And sampling many Dutch cheeses is a delightful culinary experience. Visit the Cheese Museum or the Amsterdam Cheese Company to taste and learn about different types of cheese. Gouda, Edam, and Maasdam are popular Dutch cheeses worth trying.

Dutch Pancakes (Pannenkoeken)

are larger and thinner than American pancakes. They come in sweet and savoury varieties and are often enjoyed with toppings like powdered sugar, syrup, fruits, cheese, or bacon. For a delicious pancake experience, visit Pancake Bakery or Pancakes Amsterdam.

Poffertjes

are small, fluffy Dutch pancakes. They have an airy texture and traditionally come with powdered sugar and butter. You can find these delicate treats at places like

Pancake Bakery

or any other pancake restaurant in Amsterdam.

Bitterballen

are

bite-sized, deep-fried snacks and a Dutch favourite. They consist of a crispy breadcrumb coating with a savoury, meat-based filling, typically made with beef or ragout. They are often enjoyed with mustard and make for a perfect snack while having a drink at a Dutch bar or café.

Stroopwafels

are beloved Dutch treats you cannot miss. These sweet, caramel-filled waffle cookies are made by sandwiching a layer of caramel syrup between two thin waffle layers. They are best enjoyed fresh and warm. Visit places like

Albert Cuyp Markt

or

Lanskroon Bakery

to delight your taste buds.

Dutch herring (haring)

is a must-try for seafood enthusiasts. This raw fish delicacy is typically served with onions and pickles. Try it at one of the local herring stands or in typical fishing towns like Volendam.
These are just a few examples of typical Dutch foods you should try. And you'll find most of these options at local markets, food stalls, and more.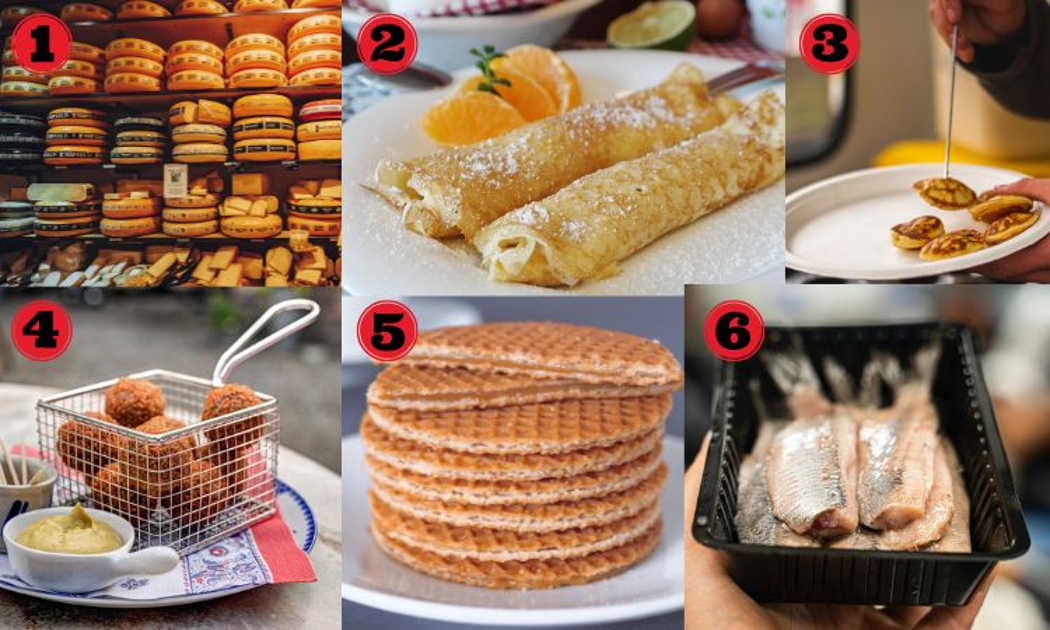 Getting Around Amsterdam
Amsterdam is a well-connected city and offers a variety of transportation options to navigate the city efficiently. From trams and buses to metros, ferries, and bicycles. Let's explore these options in a more detail:
Bicycles

are an excellent option to navigate your way through the busy streets of Amsterdam, which can quickly become overcrowded by cars. However, that's no issue for cyclists, who have access to a dedicated and extensive network of bike lanes. You can

rent a bike in one of our rental shops

in the city,

offering a range of bikes

, including electric, cargo, and tandem bikes. Rent your favourite option for a few hours or days on end and embrace the local lifestyle.

Trams, buses, and metros

are also great options to get through Amsterdam, since its extensive public transportation network. Trams are convenient for getting around central areas, while buses cover a wider range of destinations. Metro lines are ideal for travelling to the outskirts of the city. You can purchase your tickets at any station, and they're valid for all

GVB transport

, which is the municipal company operating these services.

Rideshare services

like Uber are widely available in Amsterdam, providing a convenient and comfortable option, perfect if you're travelling in a group or carrying heavy luggage. You can download these rideshare services in the app store on your smartphone. 

Trains

are the fastest and most efficient way to get to other cities in the Netherlands. Amsterdam has various train stations, Central Station being the largest for domestic and international destinations.

NS

is the Dutch national railway service that operates throughout the country.

Ferries

are a free option to traverse the IJ River in style, and of course, it's allowed to take your bike on board. The ferries provide a scenic way to reach different parts of the city, such as Amsterdam Noord.
Best hotels in Amsterdam
Whether you're looking for budget-friendly accommodation, a central location, a luxurious retreat, or good value for money, Amsterdam has options for all budgets and needs.
No matter where you stay in Amsterdam, renting a bike from Black Bikes provides a convenient and enjoyable way to explore the city's attractions and soak in its bike-friendly culture.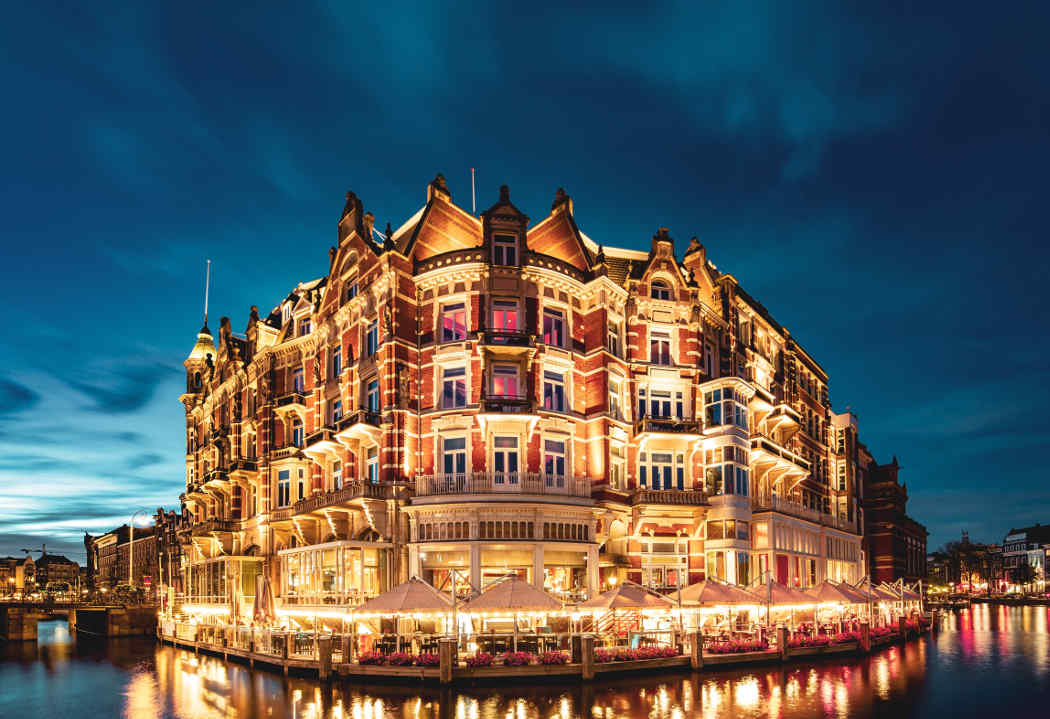 Everything About Amsterdam's Weather
Amsterdam has a moderate maritime climate characterised by mild summers and cool winters. The weather in Amsterdam can sometimes change rapidly, and you may experience a mix of sunshine, clouds, and rain showers.
The Netherlands knows four seasons:
Spring (March to May)

has mild temperatures and little rain.

Summer (June to August)

is

warm with occasional rainfall.

Autumn (September to November)

has cooler temperatures and increased rainfall. 

Winter (December to February)

is generally cold, with occasional frost and snowfall.
Below you'll find the average temperatures in Amsterdam every month. Do note that the weather in the Netherlands can vary a lot within a month, a week, and sometimes even within a day. So although the below temperaturs displays averages, good summer days can reach 30°C or even up to 35°C, for example.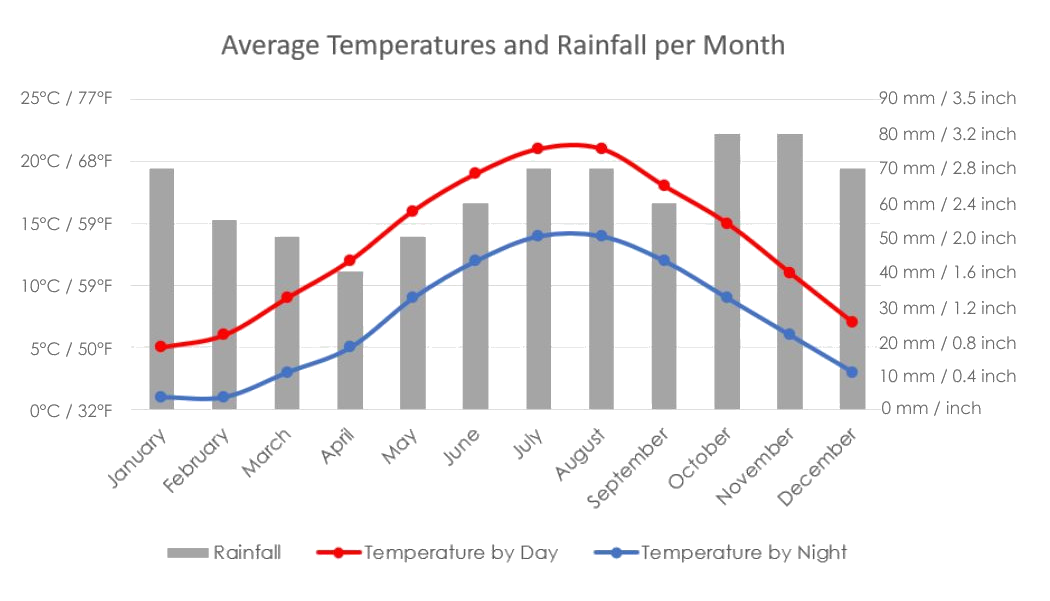 Is Amsterdam Expensive?
On average, you can expect to spend around €100 to €150 per day in Amsterdam. This estimate includes accommodation, meals, attractions, and transportation. Of course, personal spending habits and preferences can affect your overall budget. Here's a brief breakdown of approximate costs:
Accommodation:

Budget accommodations like hostels or hotels can range from €30 to €80 per night. Mid-range hotels cost between €80 to €150 per night. And luxury options exceed €150 per night.

Meals:

Budget-friendly meals at local eateries or street food stalls can range from €5 to €20. Dining at a mid-range restaurant may cost between €20 to €40 per person. Fine dining experiences can cost €35 or more.

Transportation:

Amsterdam's public transportation system is efficient and reasonably priced. A tram or bus ticket costs around €3, and a day pass for unlimited travel within the city is approximately €8. Biking is a popular and cost-effective option, with

bike rentals

starting at around €15 per day.

Attractions:

Admission fees for popular attractions like museums and historical sites can vary. On average, expect to pay between €10 to €25 for entrance tickets. However, Amsterdam offers many free or discounted attractions, such as walking tours or exploring charming neighbourhoods.

Additional expenses

may include shopping, nightlife, souvenirs, and others. Setting aside extra funds for these discretionary expenses is recommended.
Remember that these are approximate costs, which vary depending on the season, location, and individual choices. Plan your budget based on your needs and allow some flexibility for unexpected expenses or spontaneous activities.
Useful Resources for Exploring Amsterdam
Below you'll find some helpful information, apps, and websites for your stay in the capital city of the Netherlands.
We hope this guide was helpful to enhance your exploration of the city and make your visit even more enjoyable. Have a great time discovering the rich culture, vibrant neighbourhoods, canals, and iconic attractions Amsterdam offers. Happy travels!